Armfield Angling Newsletter - September 2014
We have been delighted to welcome our first UK customers to our flagship venue Lac de Villedon.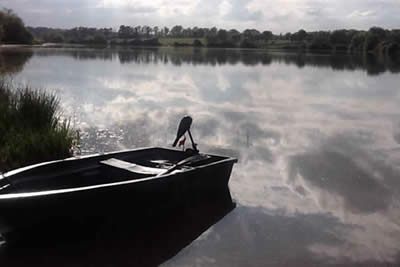 Lee Pettit was one of the early arrivals with his son Jack. Lee was given a warm welcome by John and his team, who explained all the venue fishing rules and facilities. Lee had booked swim 1 (the gite) and was immediately impressed as he walked up the pathway to the dam and looked out over the fabulous expanse of water.
A breeze from the North East rippled into Villedon bay directly in front of his luxurious gite accommodation and Lee was filled with excitement and anticipation. On Monday morning I received an email from them with their incredible 36 hour report, 23 fish, with Jack smashing his PB on the first night with a stunning common of 49lbs and a beautiful mirror of 45lbs.
One of the great things about the venue is the fish follow the wind on a daily basis which means fish are constantly moving between swims and can turn up at any given moment. During Lee's stay the prevailing wind had been from a north easterly direction but on the Friday evening a change of direction saw Lee and Jack move into swim 11 for their last night. Jack managed fish of 49lbs and yet another PB at 51lbs.
The following week myself and my good friend Keith had booked swim 19 (a triple swim) situated in the centre section of the lake. It was action from the off as Keith netted a 45lb mirror on the Saturday evening. During the week as predicted, as the wind blew, the lake went into overdrive.
I have compiled early reports from the anglers I was able to speak to on Saturday as they departed.
Swim 1 (gite) 15 fish to 46lbs
Swim 20 19 fish to 61lbs
Swim 3 21 fish
Swim 5 5 fish to 61lb(left Thursday)
Swim 9 15 fish
Swim 4 20 fish inc. a 63lb common
Swim 11 21 fish
Swim 19 17 fish to 50.08lbs
Customers visiting the venue will soon realise the quality of the fish is amazing. Keith and myself were fortunate to catch some of the most beautiful young fish i have seen, fin and scale perfect, and incredible fighters!
Dont forget for those of you visiting the venue the following facilities are available:
Food delivered to your swim which I can personally vouch for, during our week we enjoyed, roast chicken, spare ribs, pasta, pork and kebabs.
Fully stocked tackle shop that now has Mainline Cell in stock.
Ample freezer space
Free camping on a Friday night (by prior arrangement)
As we speak we have our regular clients the Porteus brothers on the venue. They arrived on Saturday and have booked swim 1 (the gite) and swim 2 (single swim) for the week. It is always fabulous to have customer feedback and the statements so far from the brothers is its the most beautiful venue they have ever visited!
Steve Briggs, Rob Hales and friends are busily packing this week ready for their arrival on Friday late afternoon. The group will enjoy a meal in the on site first class restaurant then retire to the camping area ready for their trip to start on Saturday morning. Steve is compiling a four page report for November 2014 in CarpWorld and we guarantee Villedon will give up some of its treasures! As always an editorial from Steve creates a huge level of interest and bookings so now is your chance to secure your preferred dates and swims for the next French Superwater.
---
To find out more about our French carp fishing venues please visit our home page or take a look at some of the fish photo galleries.