Armfield Angling Newsletter - August 2014
Hopefully many of you have not failed to notice the media coverage over the last few months with Armfield Angling taking full pages in CarpTalk, articles in CarpWorld and electronic e-shots as part of our launch campaign to showcase the fabulous La De Villedon.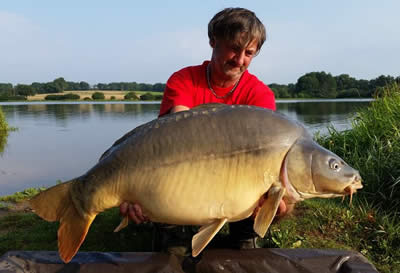 Fishing is generally slower over the hotter months of July and August but the venue has rewarded its visitors with some fabulous fish in pristine condition. Pictures of some of these fish are updated now on a weekly basis on a Monday morning direct to our Facebook and website pages.
We have been delighted with the support we have received from our customers old and new and are privileged to confirm customers such as Shimanonormark UK, Rob Hales, Steve Briggs, Des Taylor, Simon Crow and Chris Tarrant for future visits. As we speak we are busy organising, PR coverage for Steve Briggs and Rob Hales first of many visits in October this year. Steve will be writing a full report for CarpWorld that will appear in the coming months.
As word has spread at this fabulous venue we have now opened the bookings for the 2016 season. We still have availability in 2015 but we have been asked by customers who are aware of the publicity that Steve's visit will create so they are able to secure their future chosen dates and swims.

Here are a selection of answers to FAQ's we receive on a daily basis:
Fish to 72lbs, 12 over 60lbs.
Camping available f.o.c on Friday night (by arrangement)
Ample freezer space.
French electrical charging point in shower block (dont forget your adapters).
On site shop and restaurant.
Food package available of evening meal delivered to your swim.
Full swim and lake map at www.armfieldangling.com or on our Facebook page.
I am off in a few weeks time for a week on the venue with my good friend Keith. I look forward to displaying some pictures and reports from our trip
As always we remind you of our commitment and service, any queries and bookings on This email address is being protected from spambots. You need JavaScript enabled to view it..
To find out more about our French carp fishing venues please visit our home page or take a look at some of the fish photo galleries.