Armfield Angling - Newsletter February 2015
Today is 1st March and a winter season of hard work and preparation drawers to an end and the new season looks forward to welcoming all our customers existing and new for an exciting year on Armfield Angling venues!!
During the closed season word has spread in the UK about the quality of Lac de Villedon as a premier venue and its remarkable pristine fish. Much work has been completed at the venue to further enhance its reputation for quality, and this year it will welcome many celebrity and high profile anglers as individuals and in groups. Swims have been re-surfaced to allow extra drainage in wet conditions, new landing stages have been built to ensure loading of the boats is easy and hassle free. The management team have taken every opportunity to invest and further enhance the venue. The outstanding restaurant has been completed and all of our diners last year including Steve Briggs remarked on its 5 star cuisine and ambiance.
Villedon is expected to produce some amazing results this year following the drain down in December when 1.3 tonnes of pike and silver fish were removed. The remaining pristine fish to in excess of 72lbs have all the space to themselves now within the 100 acre water and this will allow them to maximise growth potential.
We are already receiving catch reports from the venue management of fish in excess of 62lbs and we will post pictures of these on our Facebook pages on Tuesday 3rd March as we receive them and they will also appear on the Armfield Angling website.
Please remember we can also email you pictures of your booked swim from the drain down done last December if you want them. Friday arrivals are also possible by prior consent before 6pm. Email Carmen on This email address is being protected from spambots. You need JavaScript enabled to view it. if you would like to do this. We can also book you reservations in the restaurant too for the Friday with prior notice. What better way to start your experience!!
Le Bois de l'etang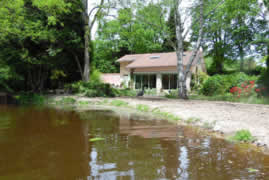 Nesting in private woodland 5 minutes from the small sleepy village of Cognac la Foret and 10 minutes from St Junien town lies Le Bois de L'Etang. The venue has now been furnished and equipt to the highest standards. The spectacular house over looking its own private gated 5 acre lake is the ultimate in seclusion for your exclusive fishing retreat with stocks of 81 uncaught fish including commons to 56lbs.
This beautiful property is suitable for parties of 6 people (4 anglers only).

The luxurious accommodation boasts plasma TV including SKY, air conditioned conservatory overlooking the lake and swims, fully equipt kitchen, bathroom and separate shower rooms of the highest quality, bait storage, utility area with washing machine and drying facilities, tackle storage room with bivvy, unhooking mats and bedchairs all provided for your use should you wish to make use of them, double bedrooms with built in storage and dressing tables. We have 2 albums on our Facebook page of some of the fish and the house interior and exterior as well as the lake, please have a look and see the above.

Le Bois is perfect for a family holiday or a small party of anglers.
Availability is limited to 26 weeks from April 4th 2015 and with some weeks already sold it is advisable to enquire quickly to experience this unique venue
Wishing you all a fantastic fishing year!
Paul and Carmen
Armfield Angling Limited
---
To find out more about our French carp fishing venues please visit our home page or take a look at some of the fish photo galleries.