Armfield Angling Newsletter - June 2014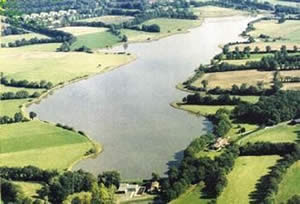 Firstly our huge appreciation for all our valued customers that have offered their continued support while Armfield Angling makes changes to it's portfolio.

Three years ago we were privileged to introduce to the UK market Domaine de la Ribiere, the success of which is undisputed as one of France's premier venues. Living in France and having fished many of its iconic waters such as Cassien, Lac du der Orient and Rainbow, I almost believed another venue to parallel these greats would be impossible to find.

I had been told by customers of a water only 45 minutes from my home.

The lake is 100 acres and holds some 1200 fish, all of which are young fast growing and hand selected for their appearance and growth potential. With fish to seventy two pounds and five other fish approaching the seventy pound mark, this had to be seen!

Carmen and I agreed we would not promote anything we have not visited and experienced ourselves. In April, I arranged a vist to Lac De Villedon for a weeks fishing. I was immediately impressed with the welcome by John and his team who gave us a warm welcome and explained thoroughly the rules at the venue.

Walking up the small track to the dam I was filled with excitement and anticipation and was not dissappointed. There before me was one of the most spectacular big fish waters I have ever seen. Access to the swims is by boat so the boat was duly loaded and it's electric engine fired up and we were off on in search of our chosen swim.

I simply could not believe we did not meet on our travels a single uk angler. How could the angling grapevine miss this?

Having being knocked out by the venues outstanding beauty and facilities you can imagine my disbelief when I slipped the net under my second fish of the week at a shade over 61 pounds!

We are delighted to offer this outstanding venue to our uk customers, so come along and join us on this ride of discovery - you will not be disappointed!!!
---
To find out more about our French carp fishing venues please visit our home page or take a look at some of the fish photo galleries.