Armfield Angling Newsletter - April 2015
Welcome to a busy start to the season on behalf of Armfield Angling. We have been delighted to introduce many of our long established customers to our portfolio of venues:
Lac de Villedon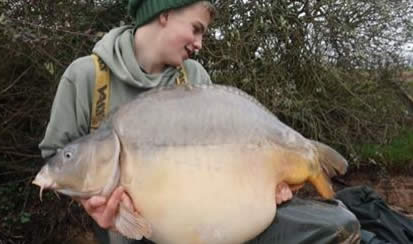 The fish at Villedon stayed closely grouped together at the deeper end of the lake during early April. Anglers in swims 1,21,3 and 4 reported huge hits including Dutch anglers in swim 4 that managed over 174 fish the largest being in excess of 60lbs.
During April Rob Hales introduced his son Harry on his first trip to Villedon, what followed was an amazing first 24 hours when Harry banked a brace at 60 plus mirrors. Well done Harry! The father and son team caught steadily during the week from swim 3. A full video of Harry's 'Amazing Brace' is published on our You Tube, Facebook and website and also a catch report and write-up appears in this weeks CarpTalk.
Rob returns in September to celebrate his 50th birthday at the venue together with Steve Briggs, Simon Crow, Chris Tarrant, Des Taylor and members of the Avid Squad. I think we can guarantee some amazing video footage from the week and the venues reputation will increase further as one of Frances best venues. Temperatures have soared during the last 7 days and the fish are now starting to spread out and feed in smaller groups, the venue has reported 12 fish in excess of 55lbs the largest being 62.2 lbs last week.
We still have some availability for this year to give you chance to catch one of the biggest and best fish France has to offer. BOOK NOW for 2016 as this venue becomes more popular to the UK angler to ensure to bag your chosen swim and dates.
Le Bois De L'Etang
We were extremely excited to open the gates at LE BOIS DE L'ETANG during the first week of April.
The Porteus brothers were the first people to book this beautiful venue and accommodation on an exclusive basis. As we had hoped our first customers were overwelmed with the standard of accommodation, quality of the lake, swims and its private surroundings not to mention the warm welcome from the venue owner. During the week the brothers enjoyed sampling some of the pristine fish with most action coming in the evenings and early mornings. Total fish for the week was 9 fish to in excess of 41 lbs, pictures will be uploaded as we receive them early next week. We have other UK anglers starting to arrive on the venue in the next few weeks, this really is the very best in tranquil idyllic retreats, please contact us on This email address is being protected from spambots. You need JavaScript enabled to view it. to SECURE your 2015/2016 dates.
Etang de Brigueuil
Our newest venue Etang de Brigueuil has reported fast and furious action as temperatures warmed up. The fish have moved into shallower water with swim 11 reporting fish to in excess of 50.13 lbs. We have availability this year although the beautiful chalet swim has now been fully booked. We have opened bookings for 2016.
Please take a look at our Facebook and You Tube channels to see new pics and slide shows added today. This really is a lovely venue with charming English owners waiting to welcome you.
We look forward to heaing from you.
Paul and Carmen Armfield Angling Limited
To find out more about our French carp fishing venues please visit our home page or take a look at some of the fish photo galleries.