Lac de Villedon: The Restaurant

We are delighted to offer our newly opened on site restaurant which can cater for an in-house dining experience headed by our full time chef or the facilities of meals delivered to your swim.

Please notify the office of your requirement swim delivery has an additional cost of two euros fifty. The restaurants facilities include washrooms for the less able. We're happy to make reservations for you at the restaurant. Please notify us at the time of booking.
Please note:
The restaurant menu is more comprehensive than the anglers menu that we display and is shown on the menu inside the entrance to the restaurant. Also, it is seasonal, based on supplies of fresh produce.
The restaraunt and shop accept credit card payments.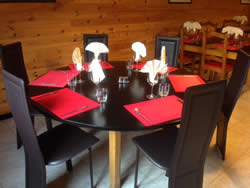 All prices in euros
Breakfast menu
Pain: 1.75

Baguette: 2.50

Croissant: 2.00

Pain au chocolate: 2.00
Dinner
Sausage and chips: 8.00

Pork in curry sauce with pasta: 11.00

Veal and rice in cream sauce: 12.00

Villedon deluxe burger: 11.00

Entrecôte steak and chips: 17.00

Spare ribs and French fries: 12.50

Chefs Pizza (tomato, cheese, onion, sausage, bacon, courgette, mushroom and egg): 11.00

Half chicken and French fries: 11.00
Week menu
This comprises evening meal only.
Bread and croissants can be ordered and collected from reception on a daily basis charged separately.

Saturday to Friday including swim delivery (entrecôte is served on Sunday): 119.50 Euros