Carp Fishing France at The Secret Garden from

Armfield Angling

Situated in the Haute-Vienne department of the Limousin region of France, The Secret Garden is only 1 kilometer from the picturesque village of Cognac-la-Foret with all of the amenities that you will require for a perfect holiday. The Secret Garden is in a very rural location, totally private and completely secure with its own private outdoor swimming pool, offering some unrivaled carp fishing in France. It is an idyllic home away from home while you enjoy a luxury holiday combined with some fantastic carp fishing.
This beautiful tree lined five acre lake with depths to 4.5 metres is nothing short of breathtaking.

Fully updated licensed and insured to meet all the current legislation. Family pets are very welcome at the venue and in the house.

A mixture of 88 carp (commons and mirrors in excess of 50 pounds), it is the perfect fishery for individuals, families or small groups of four anglers.

The Secret Garden is now one of the most highly acclaimed lake exclusive venues with first class acomodation in France. Testimony to this is it being voted top French Carp Venue in Steve Briggs's May 2018 publication titled Top 25 Carp Venues In The World !

It is advisable to book at your earliest convenience on this venue.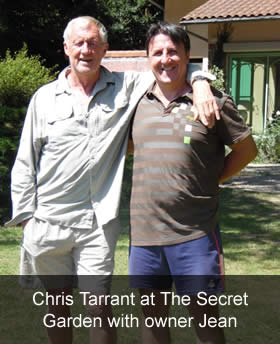 The house is equally impressive, it is large and spacious with all the comforts of home, it is fully equipped and you will want for nothing.

Having 3 double bedrooms it is perfect for families of up to 6 persons. There are also 2 convertible sofa beds, one in the master bedroom and one on the upstairs landing which provide the capacity for larger families or groups of up to 10 persons.

Inside you will find a large flat screen TV with Sky TV and even free wi-fi, so you can relax in front of the open wood fire if the weather turns chilly, or equally, relax in the air-conditioned conservatory when it gets too hot.

Outside there is ample parking for several vehicles, there is a BBQ area, covered terrace, seating, and the lake is only 20 meters from the house.

Please note the venue is completely pet friendly and fully enclosed and gated.

Outside in close view from the house's air conditioned conservatory, you will find a sun deck with a brand new outdoor family swimming pool, installed to meet all the French safety regulations. Just add in a selection of four brand new mountain and road bikes for your use ... what more could you want for the perfect family holiday?

Secret Garden Siret: 809816000200012