Sometimes as soon as you see a place for the first time you just know you're going to like it and that's how it was the first time I set eyes upon the Secret Garden. The name itself describes perfectly the feeling you get when you arrive, once you drive in and shut the gates behind you it's like you are in your own little world. The lake actually reminds me very much of an old English estate lake with beds of lily pads and surrounded by large mature trees. It is so secluded that even people living in the local area for many years didn't know the lake existed!

One of the main features is of course the house that comes with the package and it provides family and friends with everything they need while you are out on the banks fishing in peace. It has three large bedrooms and will sleep up to ten people if required but also comes with a fully equipped kitchen, two bathrooms as well as a utilities room with washing machine and chest freezer and English and continental power/charging points. Just so that you don't miss anything while you are away there is also a large TV with all UK freeview channels and also full wifi.

Paul and Carmen Armfield were very passionate when describing the Secret Garden to us and with good reason. Their services are very much in demand these days but they only pick the venues to represent that they feel are very special and so there's no sales pitch or anything like that – they just have venues that they know will be popular and if they say it's good then I know that it is!

The fishing itself is very intimate and the carp could be right under the rod tips or indeed lurking amongst the pads. The lake owner, Jean Noel chose the stock very carefully for the lake and having a good relationship with the fish farmers of the region he was able to secure some lovely carp. What I found really appealing is that most of them have taken on quite a dark colour. Most of the stock is made up of mirrors with a few commons and also a sprinkling of koi's and grass carp. The fish that I've caught there so far came from a variety of spots and on a variety of baits ranging from maize to large boilies. The takes could come literally any time day or night and there was always something to keep me interested, the fish could be fizzing in the shallows in the morning or rolling up towards the deeper dam end throughout the night – sometimes just the sight of the pads twitching would be enough to give their presence away. I just felt I was always in with a chance – exciting stuff!

The owner is a very friendly and helpful guy and his main aim is that people have a good time at the Secret Garden. If you want help and advice then he can be there to give it but he also understands that sometimes anglers and families might want to be left alone in peace and quiet and he has no problem in doing that – I found that quite refreshing! The nearby town of Cognac la Foret is literally a couple of minutes away for supplies with a supermarket, bakery, pharmacy and a nice restaurant. For a quick jaunt in to the town there are bikes provided but I doubt many people will want to leave once they have closed the gates behind them! If it gets a bit warm you can always take a dip in the pool or sit in the air-conditioned conservatory – or for that matter if it's cold then the radiators keep the interior warm - five star fishing I reckon!

There are lakes that are nice to fish, there are lakes that offer nice accommodation and others that cater for the whole family. It's almost impossible to find all of that in one place but with the Secret Garden it really does provide the whole package and when I go through those gates the real world can be forgotten for a while – a little piece of French heaven.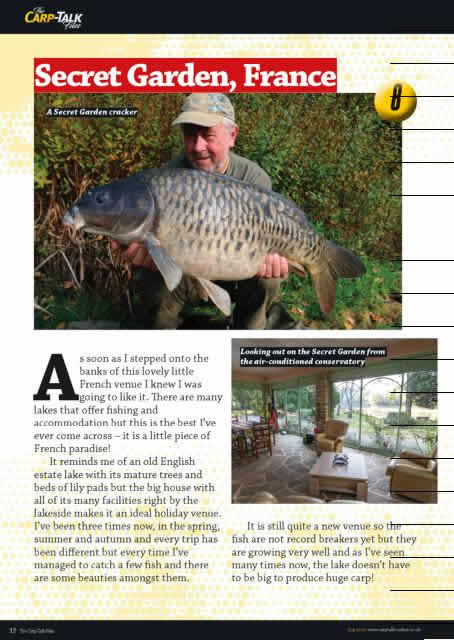 Steve Briggs top 25 all time carp waters.



---