Lac de Villedon - by Steve Briggs
The area around Limoges has become a hotbed for great carp fisheries in recent years and while most of them are quite small, it is one of the larger ones that perhaps offers the most. At over 100 acres Villedon is almost like a crossover between commercial and public water fishing and offers something quite unique. I was quite excited at the prospect of fishing the lake – yes I liked the idea of the size of the venue but I couldn't help but be impressed by what it holds! There are simply stacks of big fish on offer and they are good looking fish too.

Villedon is a long sprawling lake that winds its way through the fields and farmland. The width varies somewhat although it's not particularly wide in any area and that provides many spots to intercept and hold the fish on their travels. The carp stock of the lake is large and they like to rove around so that could mean that areas could be quiet at times but the really exciting thing is that when the fish move in, they do so in numbers and that means anything is possible and big catches happen regularly. I don't know how many 50's are in Villedon but I do remember something that was said to me when I first arrived – 'In 2011 Villedon produced it's first carp over 25kg and yet in 2014 there were 140 captures recorded over that weight!' That tells its own story, the fish are growing fast and the lake is just starting to come in to its prime and now the lake record stands at over 70lb.

The Gite swim situated at the dam wall is the only swim where you can park directly behind and is perfect for the people who want all the home comforts and what is a very productive swim. Otherwise there are 20 more swims spread out along the two main banks and access to them is by boats, which are loaded up at the dam wall. I've fished the Cabin (swim 21) both times I've been and it has become one of my favourite swims. You then have several options of how to fish, you can use the boats provided for baiting up, bait boats are also allowed if you prefer or you can just use plain old casting from the bank, which is quite popular and effective there. Generally the lake is fairly shallow anyway with a maximum depth of around 8ft or 9ft but it does shallow up gradually towards the far end. Obviously the fish will favour certain areas more depending on time of year and the conditions at the time but I did find that through the course of a week most swims were visited by fish and by the end virtually all swims had good fish to report. The trips I've had there have been very productive but the last one in particular where 12 anglers landed 251 carp between them with an incredible 55 carp over 40lb and 12 over 50lb.

Large beds of bait have certainly accounted for big catches over the years and it makes sense if you are trying to hold fish for any length of time but it has been done a fair bit so sometimes smaller baited areas or even spreading the bait more can pay off. I found bottom baits to work well even though the lake bed is quite soft and the fish seemed to really like hemp. The bait and wait approach does work but I did find that looking for signs was really worthwhile and carp would often give the productive spots away by showing over them every now and then.

The whole set up at Villedon is one of the best I've seen. Armfield Angling are so professional and so helpful that they make organizing a trip very easy. Once on the lake good meals can be provided and are delivered to each swim by boat – the dinners are really nice! There is also a tackle shop and restaurant at the base behind the dam wall. The restaurant food is exceptional and reasonably priced and great if you fancy a break from the fishing.

Villedon is undoubtedly a lake that is just coming in to its own and with the rate that the fish are growing the best years are definitely still to come. With the large stock of big carp that it holds big catches are always on the cards and many people have come away with personal bests and catches that they had only dreamed of before – I've managed fish over 50lb every time and cant wait for the next time!!

---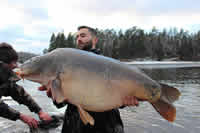 Iktus Ruffaud: New Venue for 2018
"I can't wait to get to this new venue this year with rob Hales and Paul Armfield"
Venue Details