Iktus Ruffaud: Swims
Swim B: large double swim
Gently sloping
1 to 5 metres
Large flat comfortable area for bivvies and a wooden jetty for boat access and pods
Car park 30 metres (boat access not required)
Far bank 150 metres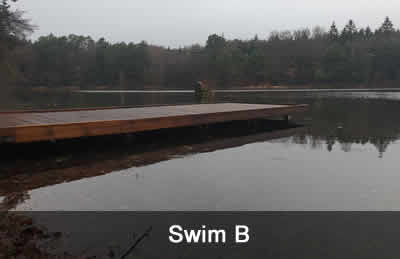 Swim C: island double swim
Island swim with wooden jetty
Some rocks and sandy areas
Depths up to 6 metres
Boat access not required

Swim D: dingle or double swim
Located on the island with wooden pontoon
Ideal to book with fiends on C as a group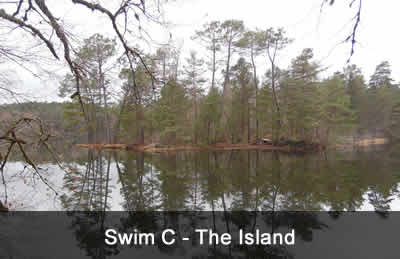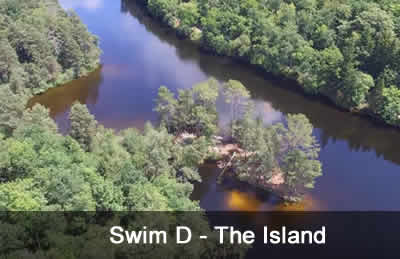 Swim E:
Ideal with swim F as a group of 4
Stone banks
Depths 1 to 5 metres
River bed in front of swim.

Swim F: large double swim
Located in the corner between the westerly and north arms
Wooden platform with flat camping
Depths of 1 to 5 metres
Far bank 80 metres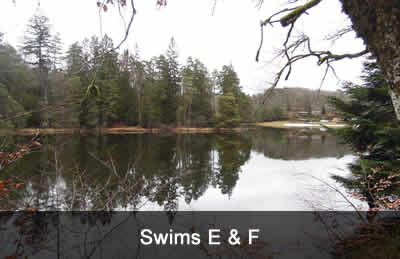 Swim G - The Cabin: large double swim (see location on swim map)
Located close to shop, reception and restaurant
Double swim, fishing a large stretch of the lake (bank opposite more than 100 m)
1 to 4 m deep, gently sloping (sand, rock and vase in the centre)
Own private beach ideal for a family vacation
This swim is right next to the bar/restaurant and its amenities
It is offered with it's own fisherman's cabin, a cosy wooden hut of about twenty square meters, heated, with indoor and outdoor lights, running water (washbasin), storage cupboard, small fridge, coffee maker and hotplates
In the summer you can enjoy it's own outdoor, private solar shower
The area for the rods is located about ten meters on the right of the hut in a small glass clearing at the end of the beach
Easy unloading
W/C fifteen meters
Very comfortable (especially for families)

Swim I: double swim
Swim I has a permanent Safari tent on a double swim, sleeping 2 to 4 people (2 anglers)
2 bedrooms and a living room area
20 sq metres with a 15 sq metre terrace on the front overlooking the water
No bivvy required on this swim
In the central area between all 3 arms of the lake (see swim map above), 1 to more than 3m bottom
Large wooden pontoon on the post allowing to fish the post from all angles
No water or electricity but appreciable comfort in the midst of the only great clearing on the shores of the lake, in the shade of tall trees
Bar/restaurant/WC at only 150 m along a managed road

Swim I can be booked with the tent at a cost of £608.00 for the week, double swim OR as a standard double without the tent for £520.00 double swim for 2 anglers.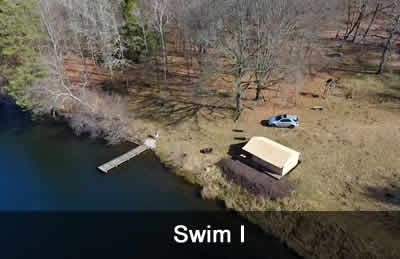 Swim J: spacious double swim
Located between the main arms
Large sandy point with large wooden pontoon
1 to 3 metres depth
Large boulders to the right of the swim
Room for 2 bivvies max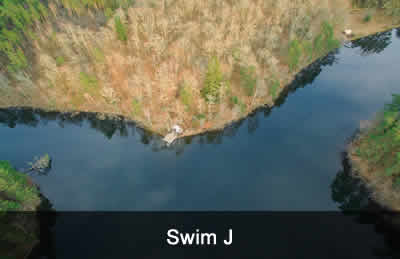 Swim K: Double swim
Flat ground and ample shade cover during summer months
Alternating shoal of stones, flat areas with softer substrates, peat bogs on the borders
2 springs plus 2 large water inflows
No fisherman in sight!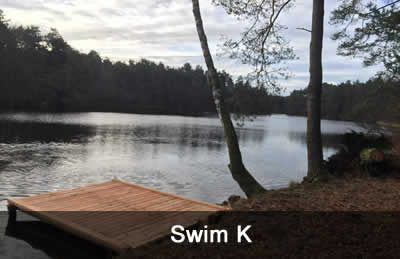 Swim L: swim with house boat
Available from now!!
This superb house-boat with a sleeping area with window, a living room and a semi-covered terrace for rods-pods.
Floating tent arranged on the post L, at the rate of £175.00 per week plus the fishing price!
Suitable for an angler and non angler or 2 anglers.
Swim L is located in the left hand arm of Ruffaud lake, a fantastic spot!!
Please note:
Swim K and L may experience some background noise from the motorway